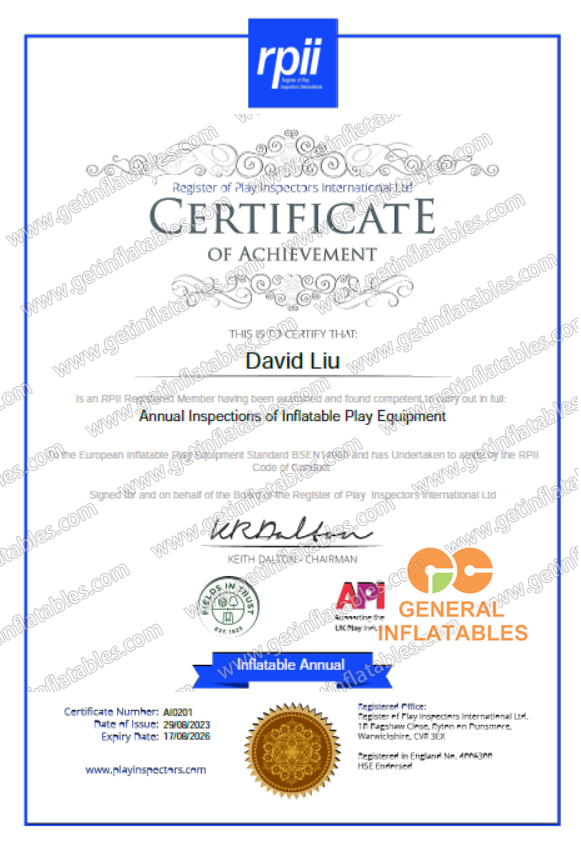 We are thrilled to share some exciting news with our valued customers and partners. General Inflatables has successfully obtained the RPII certificate of EN14960:2019, the European Standard for Inflatable Play Equipment - Safety Requirements and Test Methods. This significant milestone demonstrates our unwavering commitment to delivering products that meet the highest safety and quality standards.
Why is the EN14960:2019 Certificate Important?
The EN14960:2019 certificate is a crucial benchmark in the inflatable industry, setting forth rigorous safety requirements and test methods that products must meet to be sold in European markets. This certification ensures that our inflatables are designed and manufactured to be as safe as possible, reducing risks and providing peace of mind for both operators and end-users.
Unique Traceable Certificates for Each Product
On your request, each inflatable product will come with a unique, traceable certificate, allowing for seamless entry into European markets. This eliminates the need for you to spend additional funds to acquire a separate certificate in Europe.
Quality Assurance from Qualified Inspector
Our achievement is backed by Qualified Inspector our General Manager David Liu (Registration NO.: RPII AI0201) who is well-versed in the stringent guidelines set by the EN14960:2019 standard. His expertise ensures that every product leaving our factory is compliant with these regulations, offering an added layer of assurance for our customers.
Looking Ahead
As we celebrate this significant achievement, we remain committed to continuous improvement and innovation. We will continue to invest in research and development, quality assurance, and customer service to ensure that we remain at the forefront of the inflatable industry.
We would like to extend our heartfelt thanks to our loyal customers and partners for their continued support. Your trust and confidence in our products motivate us to strive for excellence every day.
For more information about our certified products or to place an order, please contact us today.